Worthington Massage Therapy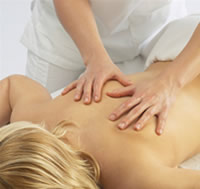 For some of us massage therapy is an occasional "splurge" or treat, usually performed for relaxation at a day spa around a special occasion such as a holiday, birthday or on vacation.
But did you know there are another form of massage techniques that many people and cultures around the world use to aid in the treatment of chronic health conditions, such as headaches, carpal tunnel syndrome, neck and back pain, as well as fibromyalgia and many other debilitating medical conditions. This type of massage is known as neuromuscular therapy.
Comparing Therapeutic Massage to Relaxation Massage
Neuromuscular massage sessions are setup quite differently from a day spa massage. For starters the setting is clinical in our private medical office. Our clinical staff carefully reviews your medical history and intake form detailing current and past health complaints. Extra time is spent with you and the doctor detailing a personalized massage treatment plan tailored to your individual needs and diagnosis.
While this type of treatment may retain a large relaxation element, advanced techniques such as lymphatic drainage, deep tissue massage and trigger point therapy are likely to be used for pain and chronic health issues. These forms of massage increase local physiological reflex effects by increasing blood circulation, promoting, aiding in the development of muscle and connective tissue reconstruction, function, and movement while decreasing scar tissue formation and adhesions.
Most often during neuromuscular therapy the therapist will see a patient very frequently for the first few weeks or months. This might include a half hour massage session two or three times a week, or weekly hour massages for a couple of months.
Choosing a Massage Therapist that is right for you
Our licensed massage therapists are highly trained and perform all massages under the direction of a supervised physician. This means the patient gets the highest level of care and knowledge available, with our doctor-prescribed massages being some of the most affordable within the Columbus area. Price range from focused treatments of 30-minutes at $40, 60-minute massages at $70, to in-depth 90-minute massages at $105.
Therapeutic Massage Applications Include:
Chronic musculoskeletal aches and pains
Sports injuries
Repetitive stress or strain injuries, such as carpal tunnel syndrome
Whiplash and auto accident injuries
Arthritis and oestoporosis
TMJ or jaw complaints
Posture and weight issues
Fibromyalgia
Pre-Natal Massage
Cupping
Cancer massage or palliative care massage
Pediatric massage – especially in cases of special needs children such as Autism and Down's syndrome
Call Graceland Chiropractic and schedule your therapeutic massage appointment today. The road to wellness begins here.