What to Expect at Graceland Chiropractic
Your First Visit to Graceland Chiropractic
New patients often remark how relaxed our office atmosphere is. That's good, because our goal is to offer state-of-the-art chiropractic care in a comfortable surrounding.
Make Yourself at Home
Upon arrival to our office you will find plenty of convenient parking with a well-lit parking lot. You'll be greeted by name when you enter our office and given a short intake package to fill out.
If you've already completed your admitting paperwork, great! You will already be in our system, saving you valuable time. Upon completion of your paperwork one of our staff members will get you acquainted with our facility, then you'll meet one of our doctors or therapists.
We Explain Everything First
The purpose of your first visit/consultation with the doctor is to discuss your health goals and see if chiropractic is likely to help you. If it looks promising, a thorough examination will help identify the cause of your problem. And again we explain everything in advance!
Patients appreciate that we explain everything in advance!
---
Your Second Visit to Graceland Chiropractic
During your second visit we have a sit down consultation and review the examination and any diagnostic tests that were performed on your first visit.
Since chiropractic and physical therapy involve a series of visits, with each one building on the one before, it's important that our relationship can go the distance. We've found that one of the best ways to have successful patient relationships is to explain everything in advance. No surprises! We also recommend that on your second visit your bring a family member with you. Someone who will support you in your healthcare decisions.
The more you understand who we are, what we do and why we do it, the better results you'll enjoy. It's as simple as that. So just to recap:
First Visit. To find out if we can help you, we ask questions and listen.
Second Visit. We'll report what we found and answer all your questions.
Regular Visit. A typical visit will be much shorter, but just as important!
---
Regular Visits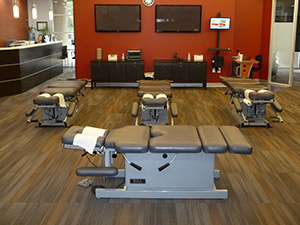 After your initial investment of time needed on the first and second visits, usually about 30 minutes each, many patients become concerned that every visit will be of equal length.
In one word. No. A typical office visit may require just five to 10 minutes. If therapy or massage is needed it can last up to an hour. Each patient treatment differs in length depending on there unique medical condition.
Like a regular workout at the gym, each visit builds on the ones before. Miss a visit and you can lose the momentum necessary to make the needed changes.
We recognize your time is valuable. We will do everything possible to run on time and minimize the impact on your busy life. Remember your treatment is a co-op, between you and the doctor. You need us to get you better and we need you to make your appointment. You, the doctors and therapist will all work together in synergy to get you back into good health.
Ready to get started? Please call Graceland Chiropractic to arrange a time so that we may meet you and discuss your particular health issue. (614) 436-2225.